The Hawks have officially signed Trae Young to a contract extension, the team announced today in a press release. While the club didn't disclose the terms of the deal, we know based on previous reports that it's a five-year, maximum-salary contract that begins in 2022/23. The two sides agreed to terms earlier in the week.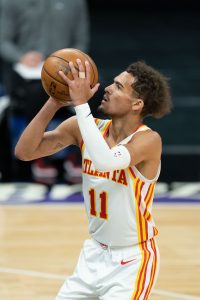 Young's deal includes Rose Rule language and will start at 30% of the '22/23 cap and will be worth a projected $207MM if he earns an All-NBA spot next season. If he doesn't make the All-NBA team, the extension will start at 25% of the cap and will be worth nearly $173MM.
"This is a great day for the Hawks franchise and the city of Atlanta," Hawks president of basketball operations Travis Schlenk said in a statement. "Trae is a special player and person who from Day One, embraced being a leader on the court and in our community. We are excited to have him as the cornerstone of our program long-term as we work toward our goal of bringing a championship to Atlanta."
The move had been widely expected this offseason, as Young has emerged as the cornerstone of a Hawks team that made a surprising Eastern Conference Finals run this season.
He averaged 25.3 PPG, 9.4 APG, and 3.9 RPG in 63 regular season games (33.7 MPG) in 2020/21, then helped lead Atlanta past the Knicks and Sixers in the first two rounds of the playoffs before suffering a foot injury in the Eastern Finals vs. Milwaukee.
Young remains under his rookie contract for one more season and will earn $8.33MM in 2021/22 before his extension begins.
Young's extension will include an early termination option after the fourth year, according to RealGM (Twitter link). An ETO is similar to a player option, so Young will have the ability to opt out and sign a new deal in 2026.