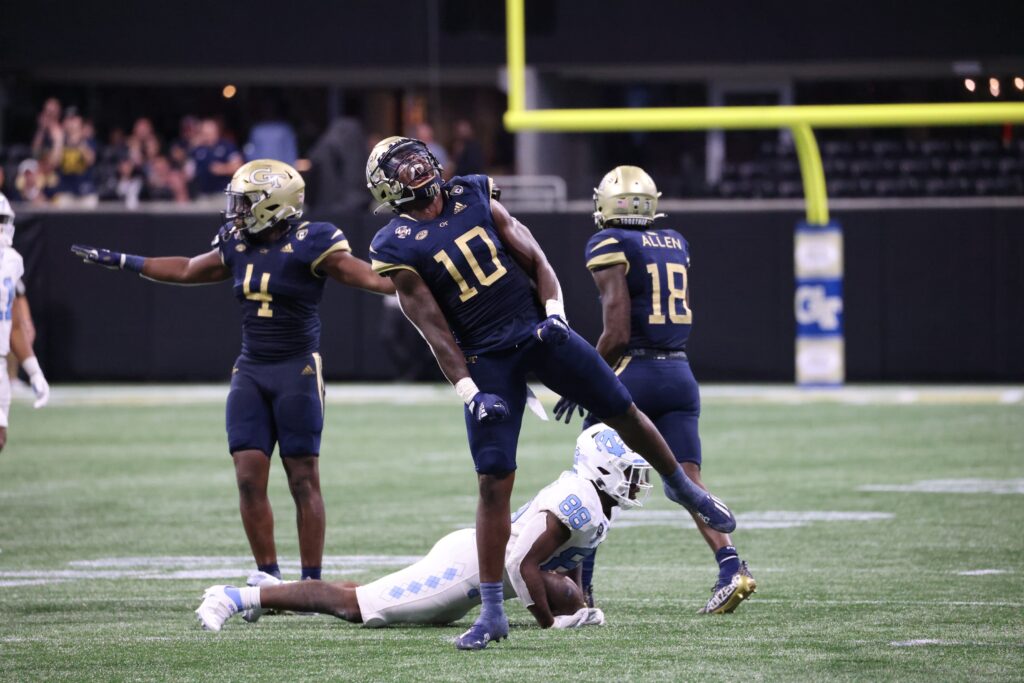 For the second week in a row, Tech faced a double-digit spread as an underdog. After a close loss to Clemson on Sept. 18, the Jackets welcomed University of North Carolina (UNC) into Mercedes Benz Stadium for the Mayhem at MBS showdown. The Tarheels came in as roughly two touchdown favorites following strong wins over Georgia State and Virginia, but Tech weathered an early touchdown and dominated Carolina, winning the game by 23.
Tech won the toss and deferred to the second half. UNC quarterback Sam Howell overthrew a likely touchdown pass to an open receiver on the second play from scrimmage, but made up for it with a long run on third down to move the chains. The Tarheel offense stalled as Howell completed one pass for no gain on the first drive, and Tech got its first touches of the game after a punt.
Freshman quarterback Jordan Yates got the start for the third straight game, eliciting cheers from the crowd. However, the Tech offense failed to gain a first down, and the ensuing punt was partially blocked, giving UNC the ball on Tech's 40-yard line. Four plays later, Howell scampered into the endzone from 23 yards out to give Carolina a 7-0 lead.
After the trading punts, Tech mounts their first long drive of the game. Opening with a 29-yard run by freshman running back Jahmyr Gibbs, the drive got as far as the UNC ten-yard line before a penalty helped bring up a fourth and goal. Senior Brent Cimaglia continued his hot streak, hitting a 34-yard field goal to put Tech on the board.
On Carolina's next play from scrimmage, Tech's sophomore defensive end Jordan Domineck forced the first of Howell's three fumbles. Junior linebacker Quez Jackson scooped up the fumble and returned it to the Tarheel ten-yard line, giving Tech another red-zone possession. For the fifth straight redzone attempt dating back to the Clemson game, Tech failed to find the endzone and instead settled for three more points and a 7-6 deficit as Cimaglia hit his second field goal of the game, this time from 32 yards.
North Carolina began to drive in response, but one of Tech's five first half sacks helped stop the drive. A 48-yard field goal attempt by senior kicker Grayson Atkins was called back after a false start, and the resulting 53-yard attempt missed wide left.
Tech punted on the next drive, but responded via senior defensive tackle Djimon Brooks forcing a second Howell fumble. Sophomore linebacker Demetrius Knight II scooped up the ball, carrying it all the way to the 17-yard line before stumbling Daniel Jones style inside the redzone. After Tech's first two redzone attempts resulted in field goals, freshman quarterback Jeff Sims was installed in Yates' stead. Sims cashed in on an 11-yard run two plays later, giving Tech a 13-7 lead they would take into the half.
Tech punted on their first possession of the second half, giving UNC the ball at their own 32. With a fourth and one from their own 41, UNC elected to go for it in their own territory only down a score. Howell was tackled for a two yard loss, giving Tech great field position to start their drive. Sims provided all 39 yards of offense, runs of 38 and one yard respectively for his second touchdown.
Tech began to gain momentum, forcing a UNC three and out. Sims found his footing in the passing game, completing all four of his passes for 60 total yards as Tech drove 81 yards for another touchdown. Gibbs punched home the score from 4 yards out, and Cimaglia's extra point was the 27th unanswered point scored by the Jackets.
UNC responded with a clinical drive, with Howell's arm accounting for all but five of the Tarheels' yards as they scored a touchdown to cut the deficit to 13. Tech was not flustered, though, and responded with a 75 yard drive of their own. The drive was capped off by a well-placed throw from Sims to a leaping Malachi Carter, who scratched his toe down in bounds for the 27 yard score.
A successful two point conversion attempt came about via the play commonly known as the Philly Special, with sophomore wide receiver Peje' Harris taking a pitch before tossing the ball to sophomore tight end Dylan Leonard for the conversion. The conversion gave Tech a 21 point lead and showed more depth of head coach Geoff Collins' playbook.
Tech forced Carolina into a third and 18 situation on the following drive, but a deep ball from Howell to Carolina receiver Emery Simmons gave them a 63 yard gain and a first down inside the ten. A pass to wide receiver Josh Downs on third and goal followed by a two point conversion attempt caught by tight end Cayden Baker cut the deficit to 13.
Needing to run out the clock against a suddenly hot Tarheel offense, Tech mounted a 12 play, seven minute, 52 yard drive to eat up almost two-thirds of the remaining time. Cimaglia hit his third field goal of the game, this time from 31 yards, and Tech held a 38-22 lead with around four minutes left.
Carolina moved the ball into Tech territory through a series of short passes before a strip sack by freshman defensive end Jared Ivey forced Howell's third fumble of the game. Junior linebacker Charlie Thomas added to his statline with a fumble recovery for Tech, and the Jackets once again capitalized on a Tarheel mistake when Jeff Sims ran for a winding 50 yard score two plays later.
Carolina began one final drive, but Tech quickly forced a turnover on downs after three incompletions and a sack by Thomas. One kneeldown later, Tech was celebrating their first win over a ranked program in the Collins era and a 23 point win over a heavily favored team.
Tech totaled 261 rushing yards while holding Carolina to 63 and outgained the Tarheels by 25 yards overall. Tech also only committed five penalties and was plus-three in the turnover margin. Sims shined in his first game back, with 112 passing yards, 128 rushing yards and four touchdowns accounted for.
The Jackets totaled eight sacks and 13 tackles for loss, living in the backfield against a good offensive line.
Thomas and Sims both received conference or national recognition for their play. Thomas' 2.5 sacks, 4.5 tackles for loss and eight tackles earned him an ACC Linebacker of the Week nod, while Sims earned a Davey O'Brien Great 8 spot, making him eligible for the award given to the top quarterback in the country each year.
In his opening remarks during the press conference, Collins called the game a "total team effort" and praised his squad for their play against a "really good team." Collins lauded the team's work ethic and ability to respond to and grow from adversity and linked those qualities to Saturday's win.
Asked about how he felt about the decision to insert Sims, Collins said, "Jeff did have a really good game, and I'm just really proud of him, the way he has battled back from injury to get himself back to 100%, the way he supported Jordan Yates every single snap of every single play."
"Jordan did the same thing, Jordan was the happiest kid in the world, celebrating with Jeff as we sang the fight song," Collins said, referring to the mutual support Tech's freshman quarterbacks have for each other.
When asked about his thoughts about the venue and the crowd, Collins said, "Our guys fed off the crowd, really thankful for the Yellow Jacket fanbase coming out and supporting our guys.
The student body had a full complete sellout of their allotment of tickets and the energy, the juice of being in downtown Atlanta, the place was rocking."
Jackson spoke about the team's recent ability to find an identity and "put it together," contributing to the defense's success this season. Sims detailed his journey back to the field, crediting his faith in God and his teammates and coaches for making sure he was ready to return to play.
Carter joked about his leaping touchdown grab, comparing his acrobatic toe tap to that of a ballerina, eliciting chuckles from the reporters at the press conference. Brooks talked about the team's success in getting to the backfield, and all four players seemed tired but happy with the win and echoed sentiments of focusing on the next game.
Tech hosts ACC foe Pitt on Oct. 2 at noon. The Panthers are 3-1, with their marquee win coming against Tennessee. North Carolina dropped from the AP Poll after the loss, and hosts Duke for their annual rivalry game at noon on Oct. 2.