After a lengthy stretch of contemplation about retirement or playing a 14th season, Alex Mack looks to have decided on the former. The decorated center is set to retire, Michael Silver of Bally Sports reports (on Twitter).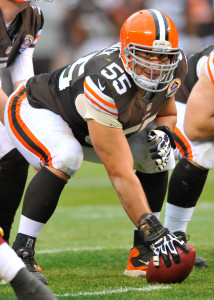 This will cap Mack's 49ers tenure at one year and give the team another interior offensive lineman to replace. Mack started all 20 49ers games last season, rejoining Kyle Shanahan after the two previously linked up in Atlanta and Cleveland. Joining Ryan Fitzpatrick as a Thursday retiree, Mack finishes his career as a seven-time Pro Bowler.
Mack's seven Pro Bowls are tied for sixth all time among pure centers, and although the Pro Bowl alternate era factors into this count, that number ranks behind only Maurkice Pouncey and Hall of Famers Jim Otto, Jim Ringo, Mike Webster and Kevin Mawae. Mack joined Pouncey on the 2010s' All-Decade team at center.
The 49ers have had extensive time to prepare for this outcome and gained around $4MM in cap room Thursday by reducing Mack's contract and moving $500K up to a June 2022 payment. Mack, 36, signed a three-year deal worth $14.85MM in 2021. That telling transaction will allow the 49ers more flexibility to potentially sign a Mack replacement, though Jimmy Garoppolo's $26.9MM cap hold has clogged San Francisco's payroll for a while. It does not look like that lofty figure will come off San Francisco's books in the near future, and the team entered Thursday ranking 31st in cap space. Mack's adjustment still stands to help.
The Browns drafted Mack in the 2009 first round, and he delivered three Pro Bowl seasons in six Cleveland years. The Cal alum enjoyed an interesting offseason in 2014, when the Browns transition-tagged him and Jaguars submitted an offer sheet. The Browns matched the five-year, $42MM offer, but that deal gave Mack the right to opt out after two seasons. He did, doing so in 2016 en route to rejoining Shanahan — his Browns OC in 2014 — with in Atlanta. The Falcons handed Mack a five-year, $45MM deal, giving Matt Ryan a quality center ahead of a key season.
Atlanta's Shanahan-conducted 2016 offense scored 540 points, which still ranks eighth in NFL history. Mack earned the second of his three second-team All-Pro nods, helping Ryan claim MVP honors. This season ended infamously in Super Bowl LI, but Mack made the Pro Bowl in his first three Falcons campaigns. He only missed two games during his Falcons years, playing out that five-year accord ahead of his return to the Bay Area. Mack earned his seventh Pro Bowl invite, albeit as an alternate, for his 49ers work.
Mack's arrival helped the NFC West squad, which saw a severe Weston Richburg injury alter its center plans previously. This marks another belated retirement announcement on the 49ers' O-line, which lost Joe Staley to an April 2020 retirement. The team responded by trading for Trent Williams. If the 49ers have a similar mindset two years later, some experienced snappers are available.
NFLPA president J.C. Tretter remains on the market, after the Browns made their five-year center a cap casualty in March. Former Broncos and Panthers starter Matt Paradis is also a free agent, with ex-Bengals starter Trey Hopkins and former Texans pivot Nick Martin available as well. The 49ers, who lost five-year left guard Laken Tomlinson in free agency, have some young internal options. None resides in the experience ballpark compared to the aforementioned UFA contingent.