Early Bird Report: Dan Quinn ranked among the top NFL head coaches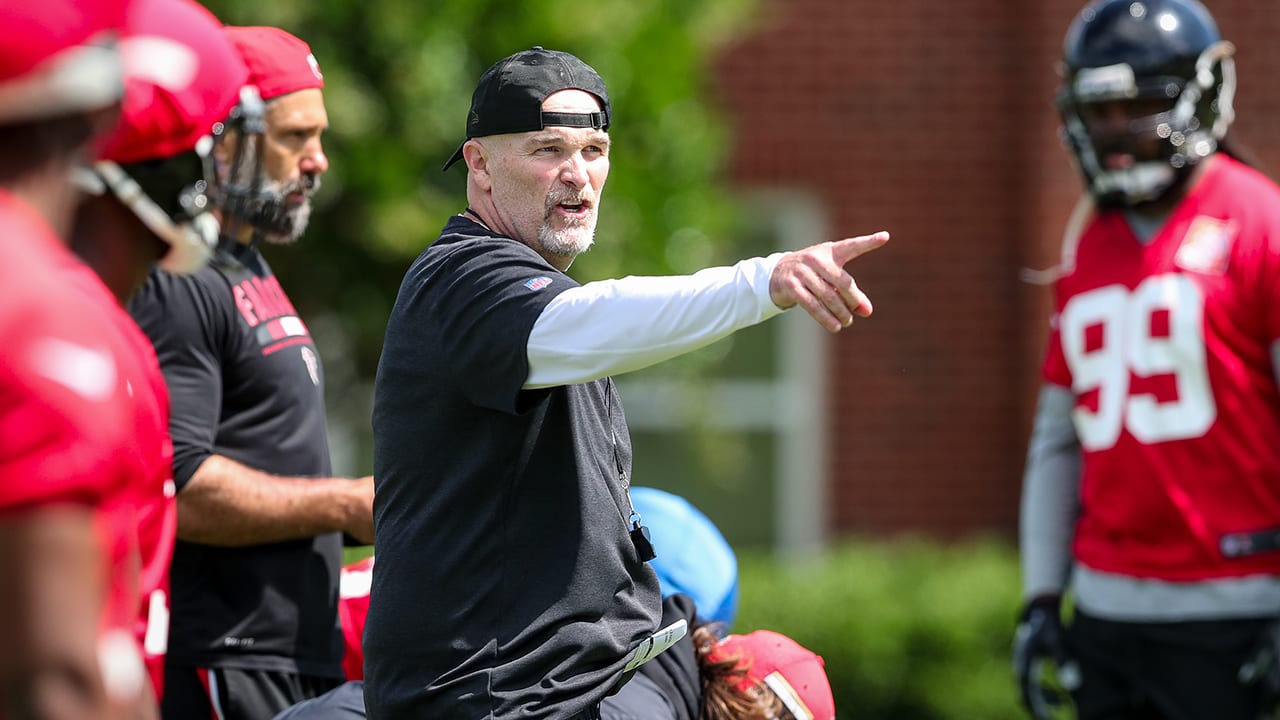 The Ringer: Who is the best receiver in the NFL?
It is an undeniable fact that Julio Jones is not only one of the best wide receivers in today's NFL, but he's also making a strong case as one of the top all-time players in history at the position. Jones led the NFL with 1,677 receiving yards in 2018, and he doesn't appear to be slowing down anytime soon.
In our society, it's not enough to be among the best; everyone wants to know who holds the No. 1 spot. Jones claims that top spot in the eyes of many Falcons fans, but it's an ongoing debate nationally and one that The Ringer's Robert Mays dove into recently.
Mays made the case for five wide receivers as the best that the NFL currently has to offer. Here's a portion of what he had to say about Jones:
"Julio Jones makes defenders play scared. At 6-foot-3 and 220 pounds with 4.34-second 40-yard dash speed, Jones is one of the most physically gifted and imposing receivers the NFL has ever seen. So even if that fear shouldn't come as a surprise, it's still amazing to see how cornerbacks react to him. When threatening receivers downfield, Jones chews up yardage at an incredible pace. Even the fastest corners seem shocked by how quickly he gets on top of them, and it leads to most players retreating as fast as possible. That respect for Jones's deep speed makes his comeback and out routes some of the most devastating plays in football. Watching the way Jones navigates the defensive backfield is akin to how LeBron James moved around a basketball court in his prime; it's hard to reconcile a man that big covering that much ground, and the way he owns space changes how the rest of the game is played."
Despite his immense respect for Jones' talent and production, Mays ultimately went with Houston's DeAndre Hopkins as his choice for the top receiver in the league right now. However, Mays did admit that his decision was basically "a toss-up" between Jones and Hopkins with the Texans receiver getting a very small nod because of his reliability catching the most difficult passes.
To see Mays' case for the other top NFL receivers as well as the rest of what he had to say about Jones, click here.
ESPN: Answering biggest question facing each team
For much of Matt Ryan's tenure with the Falcons, Atlanta has boasted a noteworthy offensive attack. Their high level of play has persisted despite five changes at the Falcons' offensive coordinator position, including their most recent hire of Dirk Koetter.
In Koetter, Ryan has a high level of familiarity and comfort, which should help the offense remain among the most dynamic in the NFL. But in a recent ESPN article the question was asked concerning whether or not the Falcons could once again reach their 2016 offensive levels, when they averaged 33.8 points per game.
"Ryan's familiarity with Koetter, who is back for his second stint as offensive coordinator, should help the offense flow a little better than last season," ESPN Falcons beat writer Vaughn McClure writes. "Having Mike Mularkey as the tight-ends coach, with his history for taking a smash-mouth approach, should be an asset in short-yardage, goal-line situations. If (Julio) Jones and (Devonta) Freeman, who have dealt with nagging injuries over their careers, remain healthy, and if the rebuilt offensive line, with rookie first-rounders Chris Lindstrom and Kaleb McGary, stands strong, the Falcons should push for 30 points per game. Then the question becomes, will Dan Quinn's defense keep opposing offenses out of the end zone?"
To see the biggest questions facing the other NFL teams, click here.
NFL.com: The NFL's most indispensable offensive players
The NFL continually becomes a league driven by great offenses and elite athletes that pose immense problems for defenses. Atlanta has one of the NFL's best offensive game-breakers in Julio Jones, who clocked it at the No. 5 spot on NFL.com columnist Adam Schein's ranking of the nine most indispensable offensive players for the 2019 season.
"The Falcons had a down season in 2018, finishing below .500 for the first time in Dan Quinn's tenure," Schein writes. "But don't blame Julio, who eclipsed 1,400 receiving yards for the fifth straight year (hauling in 113 balls for 1,677 yards). Through the years, some folks have dwelled on the freakish athlete's low touchdown totals, but A) that's more on Atlanta's approach in the red zone and B) Jones notched a respectable eight scores last season. And look for Julio's numbers to be even more eye-popping this fall, with Dirk Koetter back calling the plays."
To read the rest of Schein's thoughts on Jones as well as the rest of his list, click here.
Published at Tue, 16 Jul 2019 14:35:34 +0000