After back-to-back losses featuring subpar performances from quarterback Marcus Mariota, there has been some speculation that Atlanta could bench the 2015 first-rounder in favor of third-round rookie Desmond Ridder. However, as long as the Falcons remain in the playoff hunt, they will continue to deploy Mariota under center, as Ian Rapoport of NFL.com reports.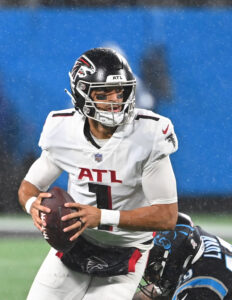 At 4-6, Atlanta's postseason hopes are a function of the weak NFC South. The club is just one game back of the Buccaneers for the division lead, and with the playoffs still within reach, it is believed that benching Mariota would send the wrong message to the locker room. Indeed, when asked about the Falcons' quarterback situation this week, head coach Arthur Smith said, "there is no situation. There was never a situation — ever."
While it is true that Atlanta's run-heavy offense minimizes the impact of recent Day 1 draftees Kyle Pitts and Drake London, it is also worth mentioning that, prior to the current two-game losing streak, Mariota had posted QB ratings of over 100.0 in three straight contests. His own rushing ability is also key to the team's offense, as he has carried the ball 63 times for 347 yards (5.5 YPC), three touchdowns, and 23 first downs. He is largely giving the Falcons what they expected when they signed him as a bridge option this offseason, and on the balance, he has helped keep Atlanta competitive despite an ugly salary cap situation that has led to an overall talent shortage.
That is not to say that the team is unhappy with Ridder's development. According to Rapoport, the Falcons — who were confident enough in Ridder to install him as Mariota's backup to start the season and forego a veteran option — have been quite pleased with how the Cincinnati product has progressed. If the team falls out of contention in the coming weeks, Smith may choose to give the rookie passer his first regular season snaps.
Until then, however, Mariota will remain the QB1. He will look to right the ship on Sunday against the 3-7 Bears.