Briefly thought to be the winner of the Deshaun Watson sweepstakes, the Falcons were among the teams most heavily connected to a quarterback in this year's draft after the Browns swooped in and submitted the winning bid for Watson. Atlanta did indeed select a QB, adding Cincinnati signal-caller Desmond Ridder in the third round, and the club also signed free agent passer Marcus Mariota in March, shortly after trading franchise icon Matt Ryan to the Colts.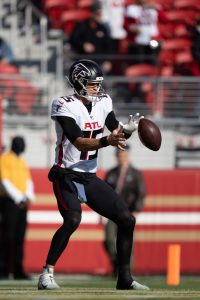 With Mariota and Ridder at the top of the first QB depth chart of the post-Ryan era, 2021 UDFA Feleipe Franks was facing long odds to see the field, at least as a quarterback. As such, the team has converted Franks to a "hybrid" player, as head coach Arthur Smith recently told reporters, including D. Orlando Ledbetter of the Atlanta Journal-Constitution (subscription required).
Franks enjoyed a successful redshirt sophomore season with Florida in 2019 and then suffered a season-ending ankle injury early in the 2020 season. He finished his collegiate career with SEC rival Arkansas, throwing 17 TDs against just four interceptions in nine games with the Razorbacks in 2021. The Falcons signed him after he went undrafted last April, and he made the roster as the third-string QB behind Ryan and Josh Rosen. He was elevated to QB2 late in the season.
While Franks will still sit in the quarterback room and take reps as a passer, he is also getting work as a tight end, where he got some practice time last season as well. At 6-6, Franks has the right height for a TE, but at 228 pounds, he is a little light relative to full-time tight ends around the league.
"Right now, it doesn't mean that doesn't change, but right now he's working more at tight end than quarterback, but he also is a quarterback," offensive coordinator Dave Ragone said.
Perhaps the Falcons are envisioning a role like the one Taysom Hill has enjoyed in recent seasons with the Saints, though Franks' 2.2 yards-per-carry rate as a collegian is a far cry from Hill's 5.3 YPC average, which he has replicated as a pro. If Franks is to have success as a hybrid player, it will likely be more as a receiver than as a runner.
Atlanta, of course, has 2021 first-rounder Kyle Pitts entrenched as its top tight end option, and the team has also made significant investments into the rest of its receiving corps this offseason, signing fellow TE Anthony Firkser, trading for WR Bryan Edwards, and drafting wideout Drake London with the No. 8 overall pick. So Franks will still have something of an uphill battle to make an impact as a pass catcher, but he has embraced the opportunity.
"I'm doing whatever they ask me to," he said. "There are a lot more things I have to learn. A lot of the tight ends in the room have helped me with my route crafting and blocking. There are a ton of things I need to learn."