Improving the pass rush was an obvious priority for the Falcons this offseason, given their performance in that department in 2021. A number of changes have taken place as a result, but one of the starting roles might not already be spoken for to the extent many may have thought.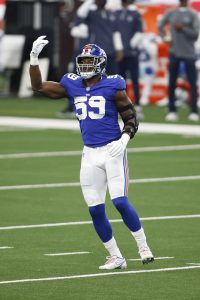 In a breakdown of the position group, team reporter Scott Bair names Arnold Ebiketie as the most logical candidate to see first-team reps. The No. 38 overall pick in this year's draft, he showcased his ability to be a disruptive edge rusher in college, especially during his time at Penn State. In 2021, the 23-year-old ranked third in the Big Ten with 9.5 sacks, more than half of the Falcons' total (18) during the NFL campaign.
That has led many to believe Ebiketie can be an immediate impact player as a rookie. The free agent departures of Dante Fowler and Steven Means certainly opens up the possibility of a three-down role for the former Nittany Lion early in his career. However, Bair cautions that Ebiketie will face competition for a starting role alongside, in all likelihood, former Giant Lorenzo Carter.
Atlanta has Adetokunbo Ogundeji in contention for a larger workload in 2022. The former fifth-rounder played nearly half of the team's defensive snaps as a rookie, registering 11 starts. He totalled just one sack along the way, but, as Bair notes, impressed the coaching staff with his potential. Another young option for snaps is DeAngelo Malone, whom the Falcons drafted one round after selecting Ebiketie. The Western Kentucky alum totalled 32.5 sacks during his college career, which could set him up for at least third down work as a rookie.
With several new faces in the edge group, the Falcons face a number of questions relating to their pass-rushing ability heading into 2022. The way in which the depth chart is ordered through training camp competition will be worth watching in the build-up to the campaign.