The Panthers have added another name to the mix regarding their fluid quarterback situation. The team announced on Monday that Sam Darnold has been activated from IR. This will be their second activation of the year.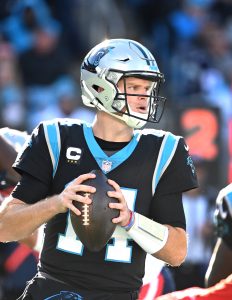 Carolina had until this Wednesday to make the move. If not, Darnold would have been ineligible to return this season. Interim head coach Steve Wilks' comments on the matter left the situation somewhat murky, but it comes as little surprise that Darnold will be available moving forward after his return to practice.
The 25-year-old suffered a high ankle sprain in the preseason, leading to the expectation of a prolonged absence to begin the campaign. That opened the door to offseason trade acquisition Baker Mayfield having an even firmer grip on the starting QB job in the opening weeks of the season, but he struggled mightily before suffering the same injury himself. P.J. Walker took over the No. 1 role for the next three games.
His level of play left Mayfield on the bench despite retuning to health, until halftime of yesterday's blowout loss to the Bengals. Walker had guided one of the worst offensive performances through two quarters in franchise history, leading Wilks to replace him with Mayfield for the remainder of the game. That move left the starting spot wide open in advance of Carolina's upcoming Thursday night game against the Falcons. Darnold – who, like Mayfield, is a pending free agent – will now factor into the team's plans in the coming days.
In other Panthers news, more changes have been made along the team's coaching staff. Cornerbacks coach Evan Cooper and defensive line coach Paul Pasqualoni were fired today, as detailed by ESPN's David Newton. Cooper had been one of several assistants with ties to Matt Rhule, and his job description included a scouting role. He will be jointly replaced by defensive staffer Bobby Maffei and interim defensive coordinator Al Holcomb. Pasqualoni, 73, has five years of DC experience in the NFL; this was his first season in Carolina. Don Johnson and assistant d-line coach Terrance Knighton will occupy his vacated role.
These moves come less than one month after Rhule and DC Phil Snow were fired, of course, as the turnover in the organization continues. With a new configuration on the sidelines, and, potentially, another new face under center, the 2-7 Panthers will host the Falcons to begin Week 10 as they hope to rebound from yesterday's loss.