As players widely linked to first-round destinations fell into the third, the long run of skepticism about this year's quarterback class manifested itself. While this was the lowest-rated quarterback crop since at least the 2013 class, a few of these passers have paths to early playing time.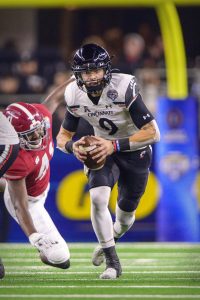 Russell Wilson's rapid rise notwithstanding, third-round QBs do not have an extensive track record for extended QB1 run as rookies. Only six non-Wilson Round 3 QBs (Joe Ferguson, Mike Glennon, Chris Chandler, Davis Mills, John Hadl and Hall of Famer Fran Tarkenton) made at least 10 starts as rookies. (Wilson is the only third-round QB to start a full season.) The bar is low for the likes of Desmond Ridder, Malik Willis and Matt Corral, but they each landed in interesting situations.
Conversations around starter promotions for this year's class must first include Kenny Pickett, who ended up going 54 spots before the next quarterback came off the board. The Pittsburgh alum, who will turn 24 next month, was a four-year starter at the ACC school. Pickett's NFL entrance looks similar to new teammate Mitchell Trubisky's. The No. 2 overall choice in 2017, Trubisky unseated Glennon after the latter signed with the Bears that offseason. A value gap between being picked second and 20th certainly exists, but the Steelers clearly have Pickett penciled in as their long-term preference.
Four of the five QBs taken in last year's first round were full-time starters by September, while three of the four 2020 first-rounders moved to the top depth chart position by October. The Steelers bumped 2004 No. 11 overall pick Ben Roethlisberger into their lineup in Week 3 of his rookie year, following a Tommy Maddox injury. How eager will they be to put Pickett out there? Trubisky has 50 career starts to his credit, and the oft-maligned Bears draftee rebuilt his value in Buffalo — to some degree — to create a bit of a market in March. A Trubisky-Mason Rudolph depth chart adds some fuel to a scenario in which Pickett waits a bit before taking the reins.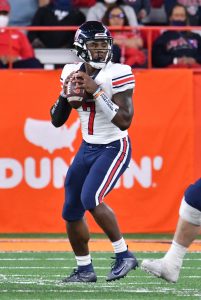 The second quarterback chosen this year, Ridder joins a Falcons team amid a full-scale rebuild. This is a similar situation to the one Mills walked into in Houston. Ridder started four seasons at Cincinnati, topping it off by helping the Bearcats become the first Group of Five team invited to the College Football Playoff. Marcus Mariota resides as Atlanta's stopgap starter, and while Ridder's No. 74 overall draft slot does not mandate a lengthy look as the team's long-term arm, Mariota has not made it past October as a starter since 2018.
The former Arthur Smith Titans pupil would stand to buy Ridder time in a low-expectations season post-Matt Ryan, but Ridder has a clear path to an extended look — if he proves worthy in the coming months.
Willis' tumble doubled as one of the modern draft's most notable freefalls. Linked to teams in the top half of the first round, the Liberty prospect fell to No. 86, when the Titans traded up for him. Of the top QBs taken this year, Willis seemingly has the best chance for a full-on redshirt. Ryan Tannehill has not seen his job threatened since taking over for Mariota midway through the 2019 slate, though the Titans have featured one of the lowest-profile QB2 situations since Mariota left for Las Vegas.
Willis' all-around skillset, which allowed the Auburn transfer to nearly put up a 3,000-1,000 season during a year in which he accounted for 40 touchdowns, will make things interesting for Tennessee — if the Titans struggle after losing a few key offensive starters.
Perhaps the biggest wild card here, Corral resides on a Panthers team that spent the past two offseasons trying to made a big quarterback splash. Sam Darnold still represents Carolina's projected Week 1 starter, unless the team finally decides to acquire Baker Mayfield. The Panthers have balked at trading for the disgruntled Browns QB for several weeks, due to his $18.9MM fully guaranteed contract. Darnold and Corral's performance this offseason may well determine if Mayfield ends up a Panther, with Matt Rhule on the hot seat and Darnold showing little — albeit behind a bad offensive line — in 2021. Corral finished last season with a 20-to-5 TD-to-INT ratio, adding 11 rushing scores, and led Ole Miss to its first major bowl game in six years.
Which quarterback will make the most starts for his team this season? Vote in PFR's latest poll and weigh in with your thoughts in the comments section.